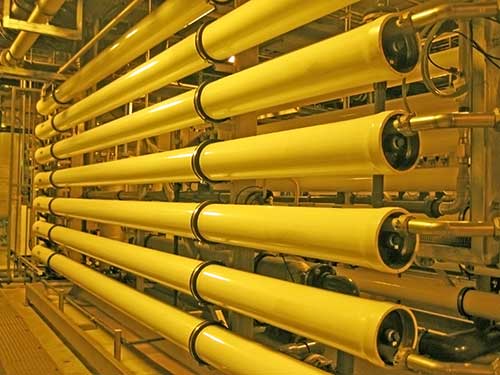 Treatment of Reverse Osmosis need to be done on your feed water in order to maintain your RO membrane and equipment hence you could have longer lifetime and the most important part is to prevent downtime and keep your operating and maintenance cost at low as possible.
Having proper pretreatment equipment prior to your RO process is important and the treatment should be done regularly hence you can the performance of your system. Operating condition also need to be check, whether it has set optimum operational level with the right parameter of permeate flow rate, water recovery ratio and pressure.
What do you need to understand before you treat your RO system?
The first part to determine the right treatment for your RO is the feed water source itself, whether it comes from well or surface water. For well water, you might need more simple water treatment compare to surface water treatment.
Feed water composition need to be analyze accurately prior to adding of chemicals since it will turn to worse situation if you add wrong chemicals or wrong dosing capacity to your system, and the application will be very important to determine the right treatment as well. Of course it will be better to consult first on which treatment should be used on your RO Water Treatment (i.e. antiscalant, antifouling, chlorine + oxygen scavengers and alkalinity control)
Why Artha Inti?
The right chemicals in the right application in the right dose! These things are our goal in order to have long terms partnership with our satisfied customers. We realized that with the growth of industry in Indonesia, many of new application and feed water composition need to be analyze clearly hence we can give you the most optimum cost efficient treatment for your RO system.
PT. Artha Inti Manunggal having a team with more than decade of experiences in water treatment system, whether it is for Boiler Water Treatment, Chiller Water Treatment, Cooling Tower as well as RO Membrane Cleaning and Treatment. So, give your maintenance process the best solution thru Artha Inti.
call us here…
021-29405555
PT. Artha Inti Manunggal
Jl. Tanjung Pura Raya No.3 Kalideres – Jakarta Barat
Fax: +6221 5407613
Our unique solution of Reverse Osmosis Treatment consist of:
Bromine Liquid Biocides
Overton 14 is a bactericide and slimicide for use in cooling water systems, air washers and brewery pasteuriser. Overton 14 represents a new generation of bromine release biocides which are more effective than chlorine.
Chlorine Liquid Biocide
Overton 49 is a unique in that it functions as a disinfectant by the release of bromine. It is effective in the presence of ammonia and hydrogen sulphide. Overton 49 superior performance characteristics to other biocide under alkaline conditions and a low cost alternative to non oxidising biocides.
Premium Antiscalant and Antifoulant
Overton 20 is a multifunctional antiscalant and antifoulant for reverse osmosis systems, highly effective in controlling both crystallization and particulate fouling of membrane surfaces. Overton 20 will control CaCO3, CaSO4, BaSO4, and CaF2 scale deposition, formulated to control both soluble and insoluble iron and ectively disperse particulates as well as against silica fouling.
Chlorine & Oxygen Scavengers
Overton 42  is a stable compound, and is readily soluble in water which able to removes Oxygen & Chlorine from water at room temperature. Overton 42 will reduce the build up of alkalinity in water and ease the problems associated with high alkalinities. It is very effective for Idle RO membrane to prevent Organic growth.
Alkalinity Control Compound & Neutralising
Overton 46 is highly alkaline allowing correct P & M alkalinity value to be maintained. Overton 46 has a high solubility. Overton 46 complies with FDA regulations (21 CFR 173.310) for boiler water additives used in the preparation of steam that will contact food.